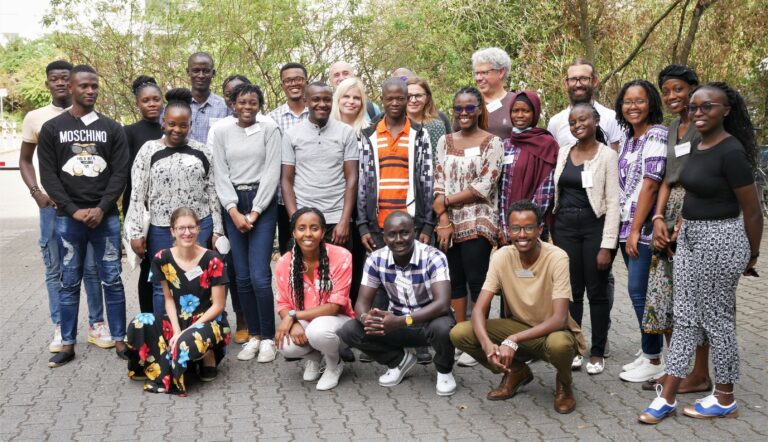 We were very happy to welcome our international students to the AFAS Summer School 2022, jointly hosted by ZEF Bonn and GSSC Cologne in Germany!
From the 22nd of August to the 9th of September 2022, seventeen of our MSc students and our three PhD students from a variety of West and East African countries –  including Benin, Burkina Faso, Cameroon, Côte d'Ivoire, Ghana, Guinea, Kenya, Nigeria, Sierra Leone, Togo and Uganda – visited Germany and participated in a comprehensive activity program.
In week 1, our motivated students participated in a variety of workshops, such as on cultural mapping, entrepreneurship, grant proposal writing and academic writing. Moreover, they presented their own research ideas on Nature-based Solutions (NbS) in the context of science-policy-practice interfaces (SPPIs) to staff members in a student symposium. Finally, they attended presentations by experienced GSSC scholars on their research on future-making in rural Africa.
In week 2, the students attended lectures on private-public partnerships, climate resilient food systems, biodiversity conservation in the context of human development, the German funding situation for research and development, as well as on climate-change-related water management. Additionally, the students visited the offices of UN-UNCCD, UNFCC and UNU-EHS in Bonn.
For week 3, we supplemented the program with further lectures and workshops on various topics related to project management by our team of the University of Nairobi and on biodiversity and climate change by our Abidjan team from the Université Félix Houphouët-Boigny. Last but not least, we gladly attended the exciting DAAD conference "International Scientific Cooperation for the World of Tomorrow: Global Centres for Health and Climate" in Berlin, Germany. This was a great opportunity for the students to get in touch with international researchers of the other DAAD Global Centres.